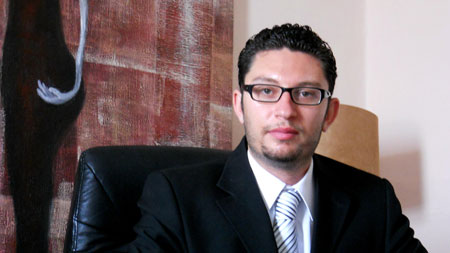 Dr André Borg is a lawyer by profession in general practice, partner at Borg & Associates Advocates based in Valletta. He followed his studies at St. Aloysius College and the University of Malta having attained a Doctorate of Laws (LL.D.) in 2007 following a Bachelors Degree (B.A.) in Legal and Humanistic Studies and a Diploma in Notarial Studies. In 2010, André benefited from a scholarship at the Università Cattolica del Sacro Cuore (Milano) in Business Entrepreneurship.
Since 2001, Dr Borg was periodically employed by Middlesea Group in its various departments. Between 2008-2010, André took over a managing role at IIMS (International Insurance Management Services Ltd) being seconded to Italy in challenging times at Progress Assicurazioni S.p.A's international & major claims unit and anti-fraud operations, where he eventually moved on to head the Legal Office. Meanwhile in 2009, Dr Borg was awarded the Robert Schuman scholarship for a short work placement as a linguist at the European Parliament in Luxembourg; eventually returning to the EU Civil Service between 2012-2013 as a lawyer-linguist at the Court of Justice of the European Union. In 2013, Dr Borg was appointed advisor on transport matters at GWU, received appointments as Member on the Prisons Appeals Tribunal, Board Member on Aġenzija Żgħażagħ, Member on the Anti-Corruption in Sports Task Force, Governor on the Board of FinanceMalta and an external legal adviser to Bank of Valletta. In 2014, Dr Borg took up PT employment at Air Malta as its Company Secretary. In 2016, Dr Borg was appointed independent member on the Planning Authority's Executive Council.
For a number of years, André assisted local organisations in EU projects coordination, tender submissions, media production, and participated in and co-organised international seminars. Dr Borg held positions at European level namely at ECOSY and ETUC between 2005-2013. André is a Commander of a Military and Hospitaller Order and is active in other local charities. Dr Borg is an active contributor on local media.
Professional Affiliations:
Dr André Borg is a member of the Malta Chamber of Advocates and Governor at FinanceMalta.

Contact Details:
Tel: +356 79493003 | +356 27529937
andre.borg@borgassociates.com
https://borgassociates.com/wp-content/uploads/2019/06/DSCN6256e.jpg
253
450
m7alpha
https://borgassociates.com/wp-content/uploads/2019/05/web_logo.png
m7alpha
2019-06-21 20:32:52
2019-06-21 20:47:52
Dr André Borg (B.A., LL.D.)